For the last 4 years I have had the privilege of arranging the theming for an annual scrapbooking camp held at Totara Springs just out of Matamata.  This year the theme was 'Greased Lightning'.  For most of the weekend the theming stretched only as far a name tags, room labels and work table decorations, but on the Saturday night for dinner we went all out.   While the campers donned their full circle skirts, cats eye glasses, tight black leather pants and pink wigs I set to giving the dinning room an overhaul.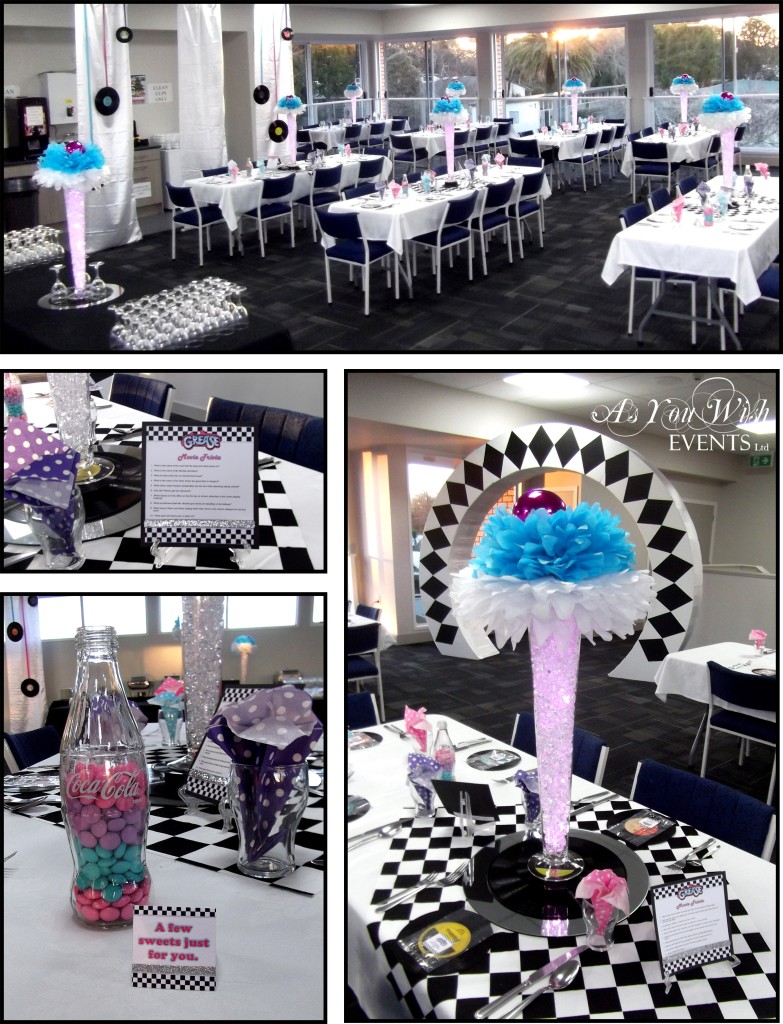 Party Décor Favourites:
I loved working with the Pink, Turquoise and Purple colour scheme.  They added the necessary pop of colour among all the black and white checks.
The ice cream soda centrepieces were another favourite.  I wanted to incorporate the neon lights we tend associate with 1950s so I filled the tall cone vases with acrylic ice and ran a strand of battery operated lights through them.
Lastly, the final touches of the theme coloured chocolate gems (similar to Smarties and M&Ms) as a self serve favour bag and the 'Grease' movie trivia card really finished it all off perfectly.
If you have any questions or comments regarding how we put this theme together or if you would like us to create a party for you then please contact us either via email or through the comments section below.